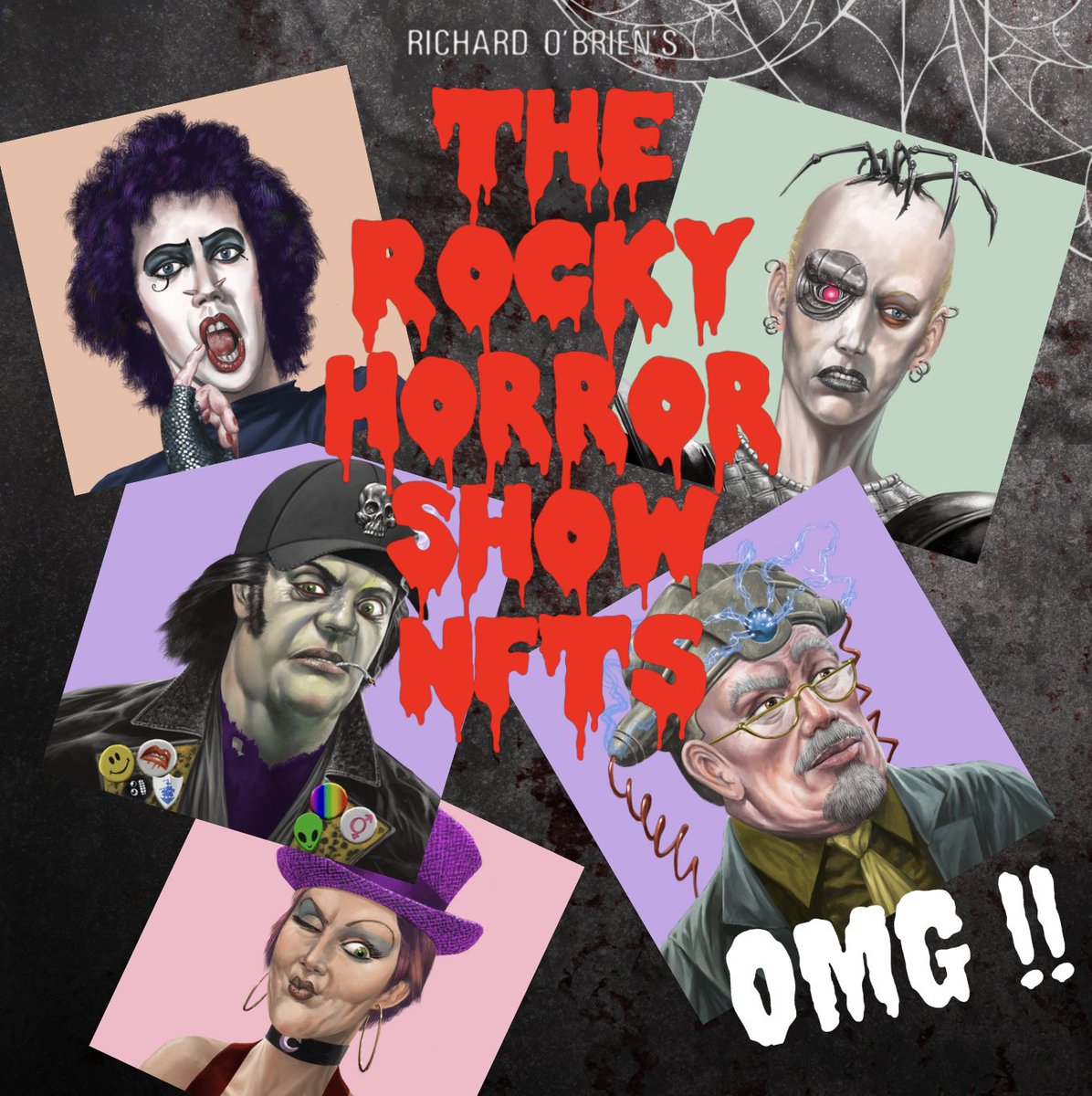 We would like to, if we may, take you on a strange journey… into the metaverse. The immortal characters from The Rocky Horror Show are being transit-beamed onto the blockchain to celebrate the show's 50th anniversary.
The Rocky Horror Show creator Richard O'Brien will be the holder of the initial Riff Raff NFT (non-fungible token) minted from the upcoming collection. Now the team behind the project is calling all stage production Frank-N-Furters, Magentas, Janets, Brads, Columbias, Eddies, Rockys, Riff Raffs and Phantoms past and present to claim a free NFT of their character before they go on sale to the general public.
Andy Leighton MD of Druidcrest, the head rights holder, and Interfishnet Ltd – a company owned by The Rocky Horror Show creator Richard O'Brien – is putting together a list of all cast members of the show and Online Blockchain plc will airdrop them their character.
In both the virtual and physical world, a Rocky Horror Show NFT is planned to act as a key to unlock access to experiences, opportunities and merch for holders as part of the planned The Rocky Horror Show metaverse. More details can be found here.
Richard O'Brien's Riff Raff character will be the first one released and other characters will be minted and airdropped to verified Rocky Horror players from its incredible 50-year history. The remaining exclusive collection will be minted and made available on NFT marketplace OpenSea later this year. Richard O'Brien and Interfishnet intend to donate a proportion of any proceeds from the NFT to charity.
"NFTs will be more than just collectibles and fandom, they represent a new form of identity. Don't Dream It, NFT it; I see you shiver with anticipatio….nft," said Andy Leighton.
Interfishnet and the team behind Online Blockchain have a relationship spanning almost 40 years, which dates back to the first The Rocky Horror Show video game.
Socials: https://linktr.ee/rockyhorrornfts
– Ends –
NOTES TO EDITORS
Online Blockchain PLC enquiries: Clem Chambers (CEO) - Tel: +44 (0) 203 475 3484  
Media enquiries: Francesca De Franco – [email protected]
About Online Blockchain plc (LSE:OBC)
Online Blockchain (www.onlineblockchain.io) is a UK-based incubator and developer of businesses in internet and information-based technologies, including developers, administrators and custodians of blockchains and cryptocurrencies.
Online Blockchain plc continues to consider new related opportunities and particularly crypto currencies and blockchain-based opportunities including incubating cryptocurrency start-ups and developing technical innovation in the blockchain space. Led by a team with over two decades of pioneering in tech, Online Blockchain focuses on innovation in cryptocurrency and decentralised ecosystems.