Globiance CEO – OLIVER MARCO LA ROSA and NAVIN D'SOUSA – Comtech Gold CEO are pleased to announce they have signed a contract on January 7th, 2023 to issue and supply GOLD and SILVER BACKED TOKENS (GBEXG) & (GBEXS) on the GLOBIANCE PLATFORM (XDCNetwork) based on Comtech's service and infrastructure. This partnership enables buyers to purchase GBEXG & GBEXS tokens that are backed by precious metals (Gold & Silver) – in digitized form. Thus eliminating the need for clients to store physical gold and silver while at the same time retaining the ability to withdraw their physical gold whenever they desire. These new Gold and Silver backed tokens will be listed and available for purchase on the Globiance Platform and others.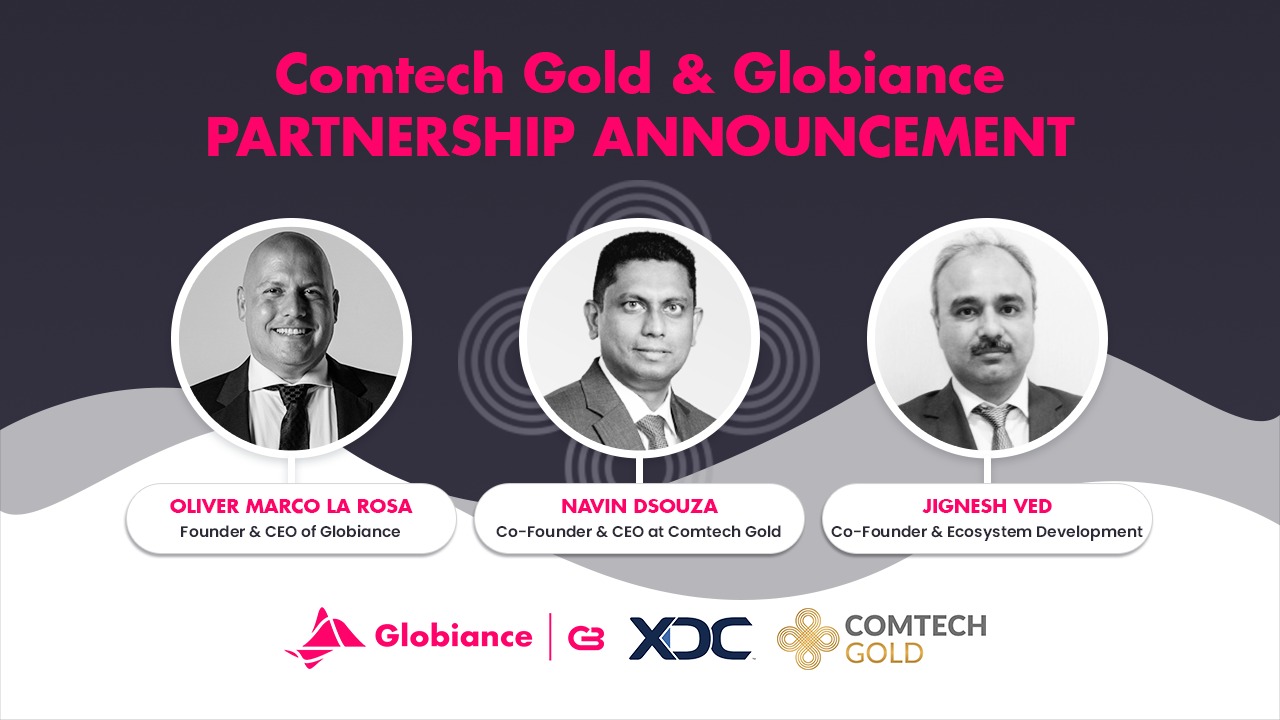 GLOBIANCE and COMTECH GOLD (Dubai) to offer GOLD and SILVER BACKED TOKENS on the GLOBIANCE PLATFORM
ComTech Gold
ComTech Gold makes gold easy to own and easy to trade. They are redefining the tokenization infrastructure by the digitization of Gold using Blockchain Technology that allows both institutional and retail communities to access Gold electronically from anywhere across the Globe. ComTech Gold tokens will be 100% backed by physical Gold in the form of Standardized 1 kg bars of 999 purity stored in a secured physical Vault custodian on a segregated and auditable basis. Gold Tokens will be issued by ComTech FZCO, which is incorporated in the UAE and registered under the Dubai Airport Free Zone Authority (DAFZA). Working within regulatory frameworks, they aim to create an ecosystem built with integrity, transparency, and efficiency to encourage the financial industry to raise the bar and discover new ways to service the Global community.
Globiance
Globiance is a Banking Fiat /Crypto Exchange Platform – combined into a single platform. It features banking and crypto services, exchanges, payment-gateways, centralized (CEX) and decentralized (DEX) marketplaces, trading, staking, online wallets Stablecoins and more. GBEX is a deflationary token native to Globiance utilized in many different capacities including; paying fees, rewards and referrals. The platform also features staking options and reward incentives distributed in the form of GBEX tokens. Globiance users have access to both Crypto and Fiat wallets in many different currencies as well as fiat and crypto exchanging with platform interoperability. The Globiance bank/debit card can be used to access crypto, shop, and transact.
Globiance and Comtech Gold are on the XDC network (XinFin) Blockchain 4.0 which utilizes fast, military-grade, secure software. It offers quick transaction speeds, low transaction fees, forensic tools, and offers ISO 20022 interoperability. As trusted partners, Globiance and Comtech Gold look forward to introducing the new tokens backed by precious metals to the Globiance platform. Globiance has a long-standing working relationship and close partnership with the XDC Network. Working together with Comtech Gold and their team of professionals will facilitate and simplify the acquisition of digital-assets backed by precious metals for Globiance clients while introducing Comtech Gold and its products to a broader audience.
Comtech Gold has the experience and proven track-record for creating and managing gold and silver backed tokens. Based on this record, Globiance will entrust Comtech Gold with creating the infrastructure and the handling of this gold and silver backed project, to them. The physical gold will be stored securely by Comtech Gold in Dubai. The release of the Globiance Gold and Silver backed tokens is planned for Q1 – 2023. Crypto & precious metal enthusiasts – get ready!
Media Contact
CEO: Oliver la rosa
Company name: GLOBIANCE Holdings Limited
Website: https://eu.globiance.com
Email: [email protected]
COMTECH
CEO: Navin Dsouza
COMPANY NAME: ComTech FZCO
EMAIL: [email protected]
WEBSITE: https://comtechgold.com