Bitcoin (BTC) exchange-traded products (ETPs) saw inflows of 6,031 BTC in the past week, according to data shared by Arcane Research's Vetle Lunde.
Lunde said the ETPs recorded a cumulative net inflow of 9,131 BTC over the past month — the highest monthly inflow since May 2022, when ETPs recorded inflows of 9,765 BTC.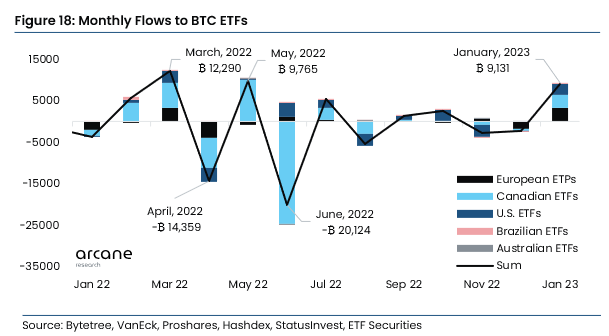 Outflows of 20,124 BTC followed the May 2022 inflow in June 2022, when the flagship digital asset declined by 40% to less than $20,000. Since then, Bitcoin ETFs have been treading water, recording more outflows than inflows until January 2023.
Meanwhile, there is a notable difference in the geographical composition of the ETFs that saw the most inflows this month compared to May 2022, when Canadian ETFs like Purpose Bitcoin dominated it.
However, the current inflows appear to be shared equally among European, US, and Canadian ETFs in January 2023.
Valkyrie ETF rises 100% in 2023
Valkyrie Bitcoin Miners ETF "We're Gonna Make It" (WGMI) has emerged as the best-performing fund in 2023, rising by over 100% in the past month, according to Bloomberg's data. The ETF, launched in February 2022, lost more than 80% of its value in 2022.
The ETF holds stocks from mining companies like Hive Blockchain Technologies Ltd, Marathon Digital Holdings Inc., Bitfarms Ltd, etc. All these miners have also seen their stock value rise significantly in 2023 following a brutal past year that saw their value decline.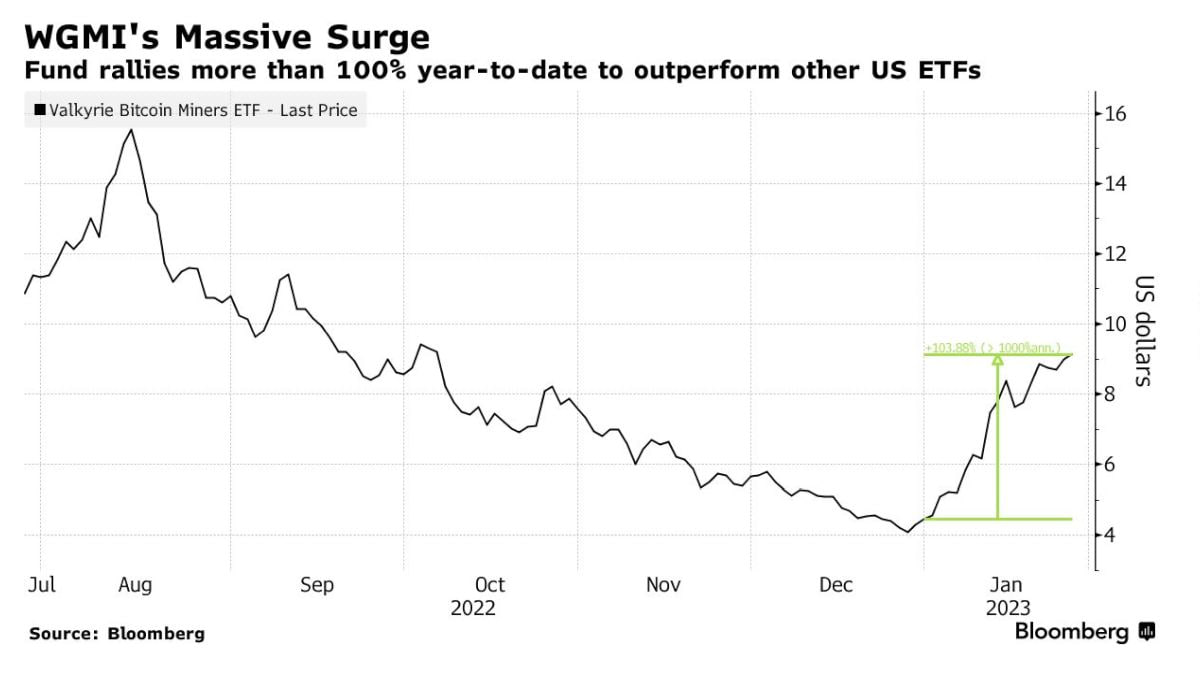 However, the early positive returns are not enough to restore investors' profits, as most ETFs are still trading below their all-time highs. For context, the WGMI is down 68.32% from its February 2022 starting price.
Meanwhile, the positive performance of these ETFs is mainly driven by the current market sentiments around the crypto industry. The crypto industry has enjoyed a blistering start to the new year, with Bitcoin and Ethereum (ETH) rising by more than 30% in the past month.